Description:
The Udly paper Band Filter is a continuous self-cleaning gravity filter. Solids are removed as liquid flows through the filter media and are then discharged in a relatively dry condition into a dustbin. The Filter media is carried by an endless conveyor. The conveyor's sloping sides create a deep pool for the liquid, while an inclined discharge ramp provides carry off for the waste. Udly Paper Band Filters are available in carbon and stainless steel to meet the most process requirement. Stainless models are ideal for all food processing. They meet FDA guidelines, handle corrosion resistant type applications and provide extra longevity for acidic environments. Custom unit are available in many types to meet the most demanding application.
Facilities:
Coolant Tank
Sludge master(filter)
Chiller, Heat Exchanger
Supply Pump (Delivery Pump)
Scrubbing Pump
Bed Flushing Pump
Transfer Pump
Magnetic Separator
Oil Skimmer
Level Indicator
Automatic Control Panel
Wheel cleaning Pump
Chiller Pump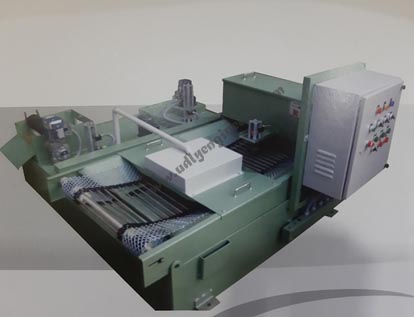 Assured Customer Benefits:
Superior Surface finish & Quality
Faster Operation - Optimum Cycle time - higher productivity
Superior Life & performance of tool & cooling lubricants
Superior Process Reliability
Help to achieve proper R.A. (Roughness average) Value.
Maintain RA and RZ values.